Lux Look:  Outfit Du Jour
How many times have you stared in your closet trying to decide what to wear, or tried this on, and taken that off, before finally selecting that "right outfit?"
Dressing should not be a chore, which is why we have put together this great outfit ensemble. The pieces work together seamlessly, but also work nicely alone.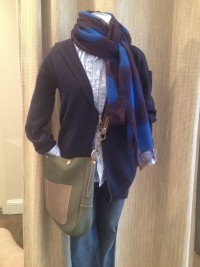 Shirts are a must-have, but not all are created equal. This Frank & Eileen blue striped cotton button-down is deliberately rumpled for a relaxed, worn-in look that is trés cool.

The Ma.ry.ya blue flecked zipped sweater is not your average hoodie. The deep V-neck elevates its style, making this easy-to-wear piece perfect for Casual Fridays, or just bopping around town.
Frame Denim Le High straight-leg jeans.  This iconic Los Angeles brand stands out for its innovative washes, cutting-edge style and amazing fit, and is a wardrobe staple.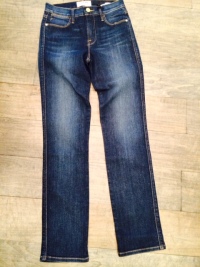 Valerie Salacroux cross-body bag in military green with camo straps is very Parisian — feminine, refined and classic. Artisanal craftsmanship is evident in this limited edition pebbled leather bag, hand coordinated by Madame Salacroux, one of Paris' best-kept secrets.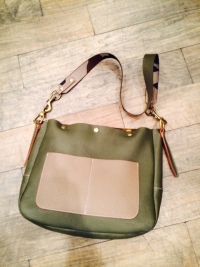 Suzusan cashmere scarf in Marsala (the color of the year) fuses refined tradition and modern design. This one-of-a-kind piece created with the shibori technique, is a great way to finish any outfit.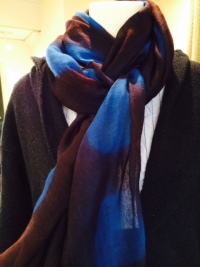 Last Conspiracy hand-turned black pointed boots complete the look.   We guarantee that these back-zip boots will never  leave your feet.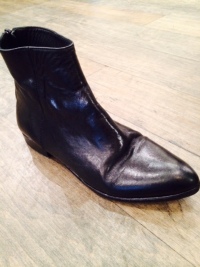 LuxCouture
We Shop The World For You
Fashion and style, from Italy to you.
A little bit of Heaven has arrived at 9 Lincoln Street – sweater heaven, that is.  The fabulous luxe knitwear by celebrated Italian fashion designer Saverio Palatella is light, fluffy and feather soft, with an uber-cool modern look.  Made of the most supple cashmere yarn with a touch of Lycra, these impeccably crafted masterpieces are almost magical, I dare say, like wrapping yourself in a warm cloud.
Palatella has been widely recognized for leading the transformation of knitwear from "accessory" to ready-to-wear garment.  The New York Times in 2010 cited Palatella as one of the Italian "designers that will carry the fashion heritage and fine craftsmanship for which Italy is known into the future."  In 1990, Elle France named him among the eight most important new fashion designers in Europe.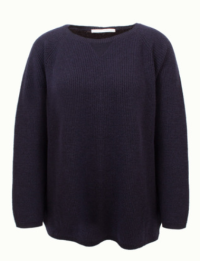 Palatella attended the international fashion design school Ecole Berçot in Paris, and before launching his own eponymous women's collection in 2001, worked for world-famous brands, such as Prada, Valentino, and Dolce & Cabana.  During its glory days in the Nineties, he designed the exquisite Malo collection, which was on the short list of must-own Italian cashmere sweaters at the time.  In 1995, he participated in a research project with Dupont®, the owner of the Lycra® trademark, which led to the creation of a cashmere and Lycra yarn.
The Saverio Palatella collection currently is sold in Italian, French, German, U.S., Japanese and Russian markets, with limited distribution.
These remarkable sweaters are here now at Lux Couture … and no words can due them justice.    Stop by the store to touch and feel these drool-worthy sweaters.  Seeing is believing.
LuxCouture
We Shop The World For You.
Time to treat yourself or someone special?
We have a fantastic new collection just in time for your Holiday glamour!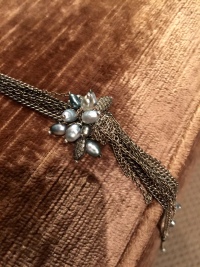 This amazing piece is long, but can be worn as a double necklace.
What fun!
Keshi pearls and diamonds , feminine and festive.
There are many to select from.
All the fun is trying them on.
Breeze in and see the Holiday selection in person.
Have to keep you guessing!
LuxCouture
We Shop The World For You
Our most coveted Christmas accessory of the season is back ! So cute and of the moment! Faux fur key chain from Paris. Attach to your bag or use for keys. Never dig again! A rainbow of colors.. LuxCouture We Shop The World For You
Blog Search
Blog Categories