Flash Sale on our MUST HAVE earrings
SPECIAL PRICING:  $1695 ($1995 LESS $300) – THRU FRIDAY 6/26/15  5PM EST

Makeup brushes are essential tools for my morning routine as I am sure they are for many women.
I have my favorites, but I also have an abundant supply.
With the idea of definitely not needing new ones, I came upon these new, somewhat different looking brushes.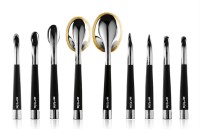 My curiosity got the better of me and I began to experiment with what I was thinking were makeup brushes from some other planet.
It occurred to me after a short while that makeup brushes really are glorified paintbrushes, with a glam look.
These were so cool and easy to use . I never thought for a second that I would be won over.
But, here I was , in love with these quirky brushes.
Artis is from the Latin word for "skill, method, technique."
And they actually DO help you master your technique!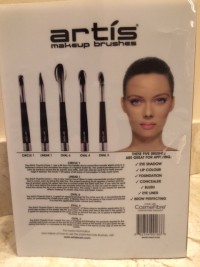 These brushes claim to be superior in every way, making blending easy even for the heavy handed makeup artist.
With an easy to follow guide that comes with the packaging, you will master the art of these unique brushes in a snap.
So I put them to the test, and I was won over in a snap.
My morning routine just got easier and it shaved off precious minutes from my routine.
I have grown to love their quirky shapes, and they now have the place of honor on my makeup table.
Fashion, Makeup , they are seamless.
LuxCouture
We Shop The World For You.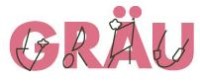 Claudia Grau is a pioneering designer from Los Angeles who contributed to making Melrose Avenue famous .
She was the first designer to use "green", reused, recycled clothing.
And, she made it chic.
So chic in fact that her celeb following is impressive.
Cher, Diane Keaton and Bette Midler just to name a few.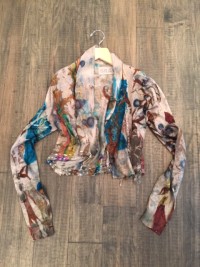 All of her clothing is hand crafted  and made in Hollywood, California.
Each one is hand made using vegetables as the dye.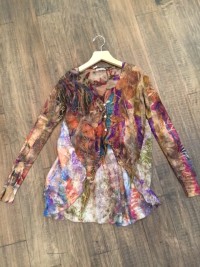 All pieces are one of a kind, making the selection of the perfect one for you so much more fun!
We are delighted to be working with the most talented Claudia Grau .
We invite you to experience this one of a kind collection for yourself.
We know you will swoon.
LuxCouture
We Shop The World For You
Lets talk about comfortable clothing , just for a moment. Are you inclined to walk around in gym clothing all day or do you just keep those pieces for their intended use? After all, there are lots of comfortable , lux comfort things to wear around these days. But not all comfortable clothes are created equal. We…
Read More Here.
Choose from Samira 13 and own private collection of sapphire globes
Welcome to Monday! We have introduced a great new line from Los Angeles , where the sun shines and bright blue skies prevail. In search of the perfect white tee that you don't have to wear a tank under? These are double layered , soft and not too tight in all the right places. Tees, tanks…
Read More Here.
Blinded by the White Why must I to own virtually every white shirt I see? I am forever drawn to this wardrobe essential, like a moth too light. Bold bright plaids, cool stripes and floral prints just don't hold a candle to the perfect white shirt. Why? Because …. a white shirt will never let…
Read More Here.
Be Jeweled this summer, Slip into a stack of Nan Fusco bracelets. With the introduction of our Diamond Bracelet Bar we intend to raise the bar! Nan's signature diamond bar bracelet with sterling silver and Nan's signature fringe is just like your base layer tee shirt. A statement all by itself. All uniquely Nan Fusco….
Read More Here.
We proudly support the BCRF and all of their  work that  has given so much   to so many women and families. There will be a cure!
Tucked away in the heart of Paris,  Edwina de Charette's atelier is chocked full of bespoke handbags. All made by local artisans right in that charming very Parisian space.. Dial back to October when I discovered this amazing , must have handbag atelier I was in complete and utter love. Our first shipment straight from the tarmac…
Read More Here.
Nan Fusco knows how to spoil a mother! Her jewelry is all handmade and all uniquely exquisite.  Diamond bracelet with fringe, sterling silver, magnetic clasp with safety chain. LuxCouture will feature a Nan Fusco Bracelet Bar with many wonderful diamond bar bracelets to stack and mix . Its tee shirt season, and with warm temps comes…
Read More Here.
A summer tote is an essential part of one's wardrobe. Its my only summer daytime bag. Its easy to get items in and out of , and when doing errands, I just put the items inside and eliminate the extra bulk of another bag. LuxCouture has its own brand of totes available for summer, and they are…
Read More Here.
Nan Fusco's creativity is apparent with her  Pearls gone wild necklace.  Open pave diamond medallion, 10 mm bail, Japanese salt water Akoya pearls which glisten . Can be worm multiple ways and is a complete conversation piece. Uniquely Nan. Exclusively at LuxCouture <a href="https://luxcouture.myshopify.com/cart/1330766408:1″ target="_blank">Buy Pearls Gone Wild Necklace</a>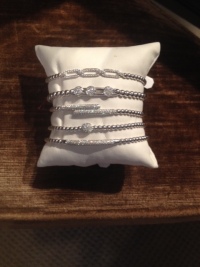 What can you wear everyday, everywhere and feel casually fabulous in? Completely chic 18k gold stretch bracelets embellished with diamonds!   They are completely understated and mix so well with just about anything. We have a beautiful selection in White , Rose or Yellow gold. With Mothers day just around the corner, why not spoil…
Read More Here.
Blog Search
Blog Categories