LuxCouture welcomes

  5 years in the New York City's famous diamond district probably seemed like a lifetime to Julie, however   it was the springboard for her  to launch  her own collection of handcrafted, limited edition jewelry.  . Just Jules  was created.
Julie moved from New York to Scottsdale , Arizona where she honed her creative skills and she was able to expand her collection.

Julie was one of five artisans who were invited to exhibit her work at the 2002 international festival of art in Florence , Italy,
The Just Jules collection … from the everyday to the extraordinary.
Most recently Just Jules has been recognized by her peers at the Couture Show in Las Vegas, the most prestigious jewelry event of the year.

Julie's attention to detail and technical expertise has clearly set her apart as a jewelry designer.
Just Jules is arriving today at LuxCouture .
With warm temperatures, its time to think about layering warm weather style , this time with Just Jules.
LuxCouture.
We Shop The World For You.

Sophisticated Summer chic shirts from Marie Eiffel have arrived.
Easy, breezy and effortlessly chic.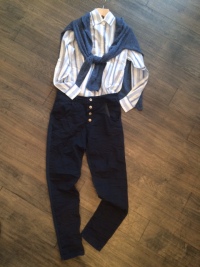 The white and blue stripe, paired with Mar'ry'a sweater and the BEST alternative to comfy , everyday wear that we have ever had.
I lovingly refer it as a hybrid. Not a jean, not a trouser, but meets everyone's daily requirements for dressing.
Casually throw Ma'ry'ya's linen sweater over your shoulders and you have "the look".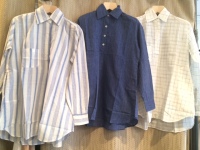 We love all of these and an added bonus are the pockets.
Gotta love easy breezy dressing LuxCouture style.
We Shop The World For You.
Summer is not far behind.
Be ready!

I am sure it sunny and warm somewhere!~
Being a truly positive person, I can imagine that one of these days we are going to see the warm sunshine and when we do , we are all most certainly going to reach for something new and fab.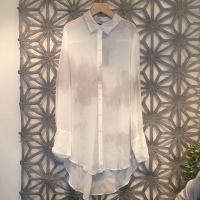 Kes has done it again. A fluid , silk top hand dyed in Israel is a wardrobe staple.
Meticulous attention to detail, and only the finest quality make this just that much more special.
A soft warm gray on a soft white shirt is so chic .
Pair with Robin Lane white leggings.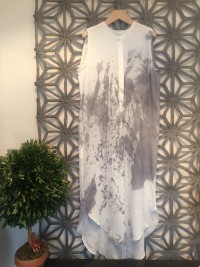 Do you have an event? Beach wedding? Cocktail party?
The dress is easy breezy.
Clothes for the modern woman (aren't we all) desk to dinner and beyond.
Feel empowered , feel beautiful.
LuxCouture
We Shop The World For You.
Love lipstick? I am a self proclaimed product junkie. I love to explore new beauty brands , from face creams to lip color. GlossiGirl intrigued me. Finding the perfect lipstick requires a lot exploring. The brainchild of makeup artist Stephen Dimmick , who believes that women "of a certain age" should not have to stick…
Read More Here.
Blog Search
Blog Categories