Fashion is a personal way to express yourself.
Each summer we make our own wish list for Fall.
What's on your list?
Who can forget last winter?
(sigh)
The idea behind Alessandra Battistella was to create a parker collection like no other.
The inspiration came from a holiday in Chamonix, hence the name.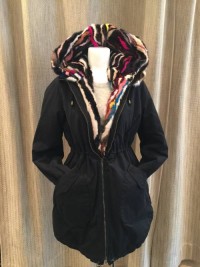 With  attention to detail and the luxurious fabrics that are used we just know that you are going to find this coat  irresistible.
C'mon , be glamorous this winter.
LuxCouture
We Shop The World For You.
.
Thursday thru Saturday – Dog Days of Summer Sale at LuxCouture
Casual chic suddenly has a new meaning
If you run around in "casual" then you are going to love the Veronique Miljkovitch  collection.
Casual loop terry that is cozy and functional.
Veronique Miljkovitch has brilliantly outdone herself for Fall.
Her collection combines the raw sensuality of texture with a relaxed European fit.
With the dynamic woman in mind , these pieces embody a refined allure that goes way beyond trends.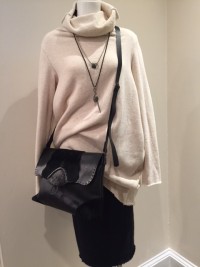 A collection of slim skirts, leggings and an array of tops, long enough to wear with many other slim bottoms in your wardrobe.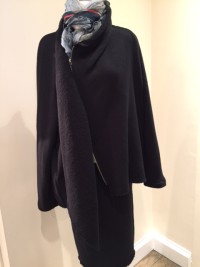 Black and Creamy Off White are mix and match simplicity.
LuxCouture loves anything that you can wash and wear, and this certainly fits the bill.
We have paired these looks with a handmade bag from Anat Gelbard, and Theodore jewelry.
Make it your own.
Wear it you own way.
We have the collection for you to see right now.
Buy now, wear now (ok, soon)!
LuxCouture
We Shop The World For You.
Anat Gelbard is an artist with a passion for elegantly made (by hand) handbags with superb detail and unique details. Hailing from Israel, there is a surge of very talented designers . I had the pleasure of meeting with Anat in Paris .Her passion is evident. Today they arrived and we are so excited to…
Read More Here.
Hard to think about fall? You know that the great items come knocking at our door in July and August. The fashion calendar does not know that summer is a time to kick back and relax. Instead, its planning time, and the time is now! Our Desa Nineteen Seventy Two collection has arrived . Elegant…
Read More Here.
Jewelry trends are much like trends in handbags and fashion . Remember the days of the certified "it" bag? Its chic to wear sneakers , I am certain that the stiletto sneaker cannot be far behind. What is really exciting and oh, fun are all of the jewelry "it " pieces that are trending ….
Read More Here.
Makeup brushes are essential tools for my morning routine as I am sure they are for many women. I have my favorites, but I also have an abundant supply. With the idea of definitely not needing new ones, I came upon these new, somewhat different looking brushes. My curiosity got the better of me and…
Read More Here.
Claudia Grau is a pioneering designer from Los Angeles who contributed to making Melrose Avenue famous . She was the first designer to use "green", reused, recycled clothing. And, she made it chic. So chic in fact that her celeb following is impressive. Cher, Diane Keaton and Bette Midler just to name a few. All…
Read More Here.
Lets talk about comfortable clothing , just for a moment. Are you inclined to walk around in gym clothing all day or do you just keep those pieces for their intended use? After all, there are lots of comfortable , lux comfort things to wear around these days. But not all comfortable clothes are created equal. We…
Read More Here.
Choose from Samira 13 and own private collection of sapphire globes
Welcome to Monday! We have introduced a great new line from Los Angeles , where the sun shines and bright blue skies prevail. In search of the perfect white tee that you don't have to wear a tank under? These are double layered , soft and not too tight in all the right places. Tees, tanks…
Read More Here.
Blinded by the White Why must I to own virtually every white shirt I see? I am forever drawn to this wardrobe essential, like a moth too light. Bold bright plaids, cool stripes and floral prints just don't hold a candle to the perfect white shirt. Why? Because …. a white shirt will never let…
Read More Here.
Be Jeweled this summer, Slip into a stack of Nan Fusco bracelets. With the introduction of our Diamond Bracelet Bar we intend to raise the bar! Nan's signature diamond bar bracelet with sterling silver and Nan's signature fringe is just like your base layer tee shirt. A statement all by itself. All uniquely Nan Fusco….
Read More Here.
Blog Search
Blog Categories