Leon Taieb the  brilliant designer of Maison Passage  never ceases to amaze us with his clever , unique prints.
Clearly , Mr. Taieb is passionate about presenting a unique collection of prints for his scarves each season.
The display in Paris clearly stands out in my mind, as I always feel like I have just walked into a candy store of scarves, and must touch and try each piece on.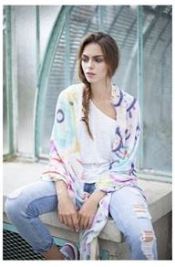 This Spring, the collection's theme revolves around children's art and the simplicity of it, interpreted in a way that makes you want to wear it.
Stick figure drawings, feathers, and street art in a bit of  primitive way.
Maison Passage scarves always a welcome departure from all others.
Nothing boring here!
The scarves are a conversation piece , and compliment even the most basic ensemble.
We LOVE this collection, and considering the Fall 2014 flew out of here, (sadly leaving many disappointed) we invite you to experience this amazing collection for yourself.
Maison Passage , never boring, always interesting.
LuxCouture
We Shop The World For You

For many women, the mantra of everyday dressing is simplicity , comfort and modernity. We are so excited about Sofie D'Hoore's Spring/Summer 2015 collection , which has just arrived at LuxCouture.

D'Hoore is known for her easy-to-wear clothing that is understated, chic and designed for everyday life.
Universally flattering and practical, with clean lines, her timelss pieces are "simple and sophisticated, classic yet wholly contemporary."
The collection can be worn desk to dinner but are equally perfect for every day casual life.
Sophie D'Hoore has a cult like following around the globe.
We know why!
The beauty of Sophie D'Hoore's collections are that they are always sensibly chic and timeless.
Each season reveals amazing fabrics in classic Sophie D'Hoore shapes.
Sophie D'Hoore graduated from the Royal Academy of Fine Arts Antwerp, and launched her namesake brand in September 1992.
We are thrilled to work with such a talented designer.
We invite you to see the collection for yourself.
Be prepared to fall in love.
LuxCouture
We Shop The World For You
After years of being supplanted by white gold and platinum, classic yellow gold is making a stunning comeback – seen more and more in leading fashion magazines, jewelry cases and on the red carpet.
The pièce de jour, the 14K gold diamond bar necklace, has made its way from Los Angeles to 9 Lincoln Street, and it is one of our latest obsessions.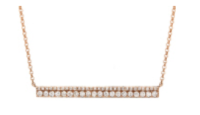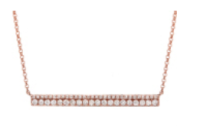 The simple, delicate piece adds a touch of bling, and can be donned on any occasion and with any outfit, from jeans and a T-shirt to cocktail and office attire. You can wear the piece solo, or layer it with one or more delicate necklaces of varying length. I think it would pair superbly with a long lariat bauble. It also works with any neckline, from a conservative crewneck to plunging deep V.
We Shop The World For You
And We LOVE Jewelry!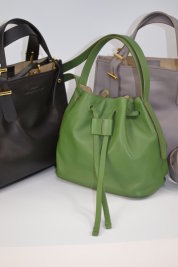 Don't follow the trend, set it! Our newest collection of jaw dropping handbags has arrived. DESA NINETEENSEVENTYTWO is a collection of buttery soft leathers, in easy to use shapes . Timeless , understated luxury. This tote has a removable shoulder strap , a must . A fabulous collection of "mini's" . All in store now!…
Read More Here.
Blog Search
Blog Categories